Is Asia up to the Challenge? Yes, it is! This was the theme and question posed by the i-genius Asia Summit on Social Entrepreneurship in the City of Angels (Bangkok). With over 70 participants from across Asia, the two-day interactive summit connected individuals, businesses, academics, media, organizations, and government personnel together for what proved to be an intimate and inspiring gathering. On the first day of the Asia Summit i-genius released the results of its pan-Asia survey, which discovered that universities need to improve (not just in Asia, but globally) in order to adapt to the changing social and business markets. There were also inspiring case studies on relevant topics such as eco-entrepreneurship.
The format was round-table conversation style with minimal formal presentations, thereby giving participants a real opportunity to dig deep and contribute to the topics. Over the two days each participant tackled the 7 challenges with innovative thought and passion, whilst working together with their fellow Asian professionals. The ideas and partnerships created crossed borders and even developed into a new East Asian Social Enterprise Network, of which i-genius is proud to be the catalyst.
The i-genius Asia Summit on Social Entrepreneurship (Bangkok, 2012) connected social entrepreneurs and stakeholders from 16 countries with the aim of elevating social enterprise in the region to a higher level.
Asia Summit Summary
The Summit was opened by Chris Gibson, British Council Country Director, Thailand, who was followed by Prof. Kriegnsak Chareonwongsak, Chair Social Entrepreneur Institute, Thailand, who set out 12 recommendations on how to raise social entrepreneurship to a new level in Asia, including: education, ease of registration, procurement, media, mobilising finance, networking and promotions. i-genius founder, Tommy Hutchinson, presented the findings of i-genius' regional survey.
Seven key challenges were presented by:
1) SWOT ASIA (Romy Cahyadi, Indonesia)
2) CUSTOMERS FIRST (Sunit Shrestha, Thailand, and Vincent Rapisura, Philippines)
3) SKILLS AND KNOW-HOW (Yuan Gu, China)
4) BRIDGING THE GAP BETWEEN SOCIAL ENTREPRENEURS AND FINANCERS (Vincent Rapisura and Edwin Salonga, Philippines)
5) DESIGNING A LEGAL AND REGULATORY FRAMEWORK FOR GOVERNMENTS (Penny Low MP, Singapore)
6) DEVELOPING NETWORKS, PARTNERSHIPS AND ENGAGING STAKEHOLDERS (Edward Rubesch, Thailand)
7) GOOD COMMUNICATIONS (Kristine Oustrup, Singapore)
The Summit was presented with three case studies:
+ Roberto Cristostomo, Seed Core, Philippines
+ Huang Ke, V-Roof, China
+ Orapin Sinamonvech, Koko Board, Thailand
The latter two, part of the E-idea initiative, were accompanied by Peredur Evans, British Council Thailand, and Ari Sutanti, British Council Indonesia.
Participants attended a reception on the first evening at the stunning Latitude Lounge bar overlooking Bangkok and a final evening dinner at the award winning Cabbages & Condoms restaurant.
i-genius would like to thank all participants for their enthusiasm and excellent contributions. A special thanks to the British Council for their kind sponsorship and to partner organisations: SEDPI, Change Fusion, Global Social Venture, YourStory, Synergy Social Ventures, Centre for Sustainable Enterprise, Qi Global, FYSE, and Social Innovation Park.
The question posed, 'Is Asia up to the challenge?' Answer: 'Yes, it is!'
Review by Mariel Vincent A. Rapisura
"Is Asia up to the challenge?" This is the theme of the Asia Summit on Social Entrepreneurship.
Seventy four delegates from 17 countries in Asia attended the event in Bangkok, Thailand on March 1-2, 2012. As the fastest growing region in the world, the summit aims to examine the potential for social innovation and how social entrepreneurship can be raised to an even higher level.
Dr. Kriengsak Chareonwongsak, Chair of Social Entrepreneurship Institute in Thailand delivered the keynote speech to open the summit. In his speech he stressed the importance of social entrepreneurship in contributing to the development of Asia as a region. I-genius's CEO and summit organizer, Mr. Tommy Hutchinson, presented the Asia wide survey results on social entrepreneurship. He highlighted that social enterprises in Asia have a positive outlook since they generally expect higher sales, create employment and improve impact in the coming years.
The summit provided a platform to surface and respond to seven challenges. Mr. Romy Cathyadi, director of Provisi Education in Indonesia, facilitated the first challenge which identified the Strengths, Weaknesses, Opportunities and Threats of Social Entrepreneurship in Asia. In brief, the strengths include a strong demand for social enterprise products and services; a few countries, such as South Korea, Singapore and Thailand; recognized social enterprises as agents for social development.
The weaknesses include lack of management skills, limited market understanding and limited finance. Increasing interest from the government, civil society and the consumers to support social enterprises is the most pronounced identified opportunity. Lastly, threats include lack of regulatory framework; competition from traditional businesses; and varying definitions of social entrepreneurship hinder collaboration, policy creation and access to resources.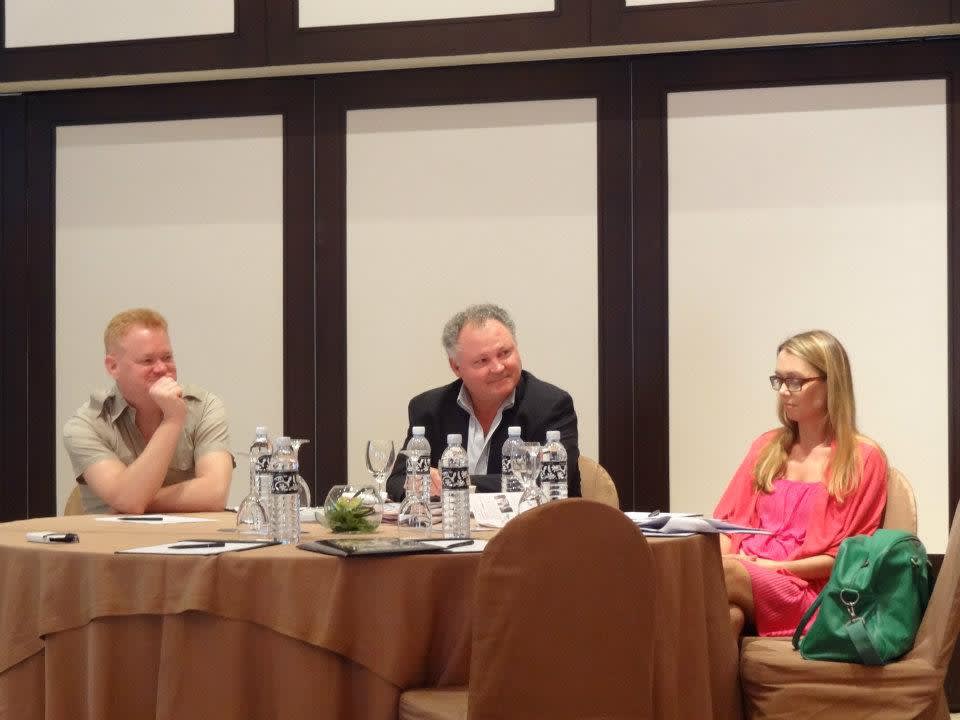 Sunit Shrestha, director of Change Fusion in Thailand and Vincent Rapisura, CEO of SEDPI Group of Social Enterprises facilitated the second challenge: Customers First. The session stressed the importance of market orientation to sustain social enterprises and making sure that institutional capacity is developed to provide the preferences of the market. Vincent Rapisura stressed that, "there is no such thing as competition in social entrepreneurship".
He explained that social enterprises offering the same products and services have the same vision or mission towards social development and therefore should collaborate to achieve each other's vision or mission. "In a world where poverty is high and the environment is compromised, competition in social entrepreneurship should be transformed to collaboration," he added.
Yuan Gu, founder and CEO of Aha Social Innovation Center, drew from the participants the third challenge on skills and know-how. His session highlighted the need for continuous innovation to provide products and services to the market.
The fourth challenge on finance and investment was presented through active participation. Mr. Edwin Salonga, Chairperson of SEDPI Group of Social Enterprises, and Vincent Rapisura teamed up to facilitate the session. They shared myths and facts in resource mobilization as well as shared their actual experience in raising capital that grew their social enterprise from a mere USD 500 company to an almost USD 3 million company in seven years. Mr. Alan Johnson, a Winston Churchill Memorial Trust fellow wrote, "Brilliant! Great fun!" in his evaluation of the session.
Penny Low, President and Founder of Social Innovation Park in Singapore, stressed the important role of the government as enabler and as an entrepreneur in supporting social enterprises. She presented the fifth challenge on designing a legal and regulatory framework for governments. Ed Rebusch, director of the Centre for Social Enterprise of Thammasat Business School in Thailand, tacked the sixth challenge on developing networks, partnerships and engaging stakeholders. He emphasized the importance of the entrepreneur as the "middle person" in bridging the gaps of seemingly polar ideas, actors or events.
HOP – Happy, Optimistic and Personal was the main message of Kristine Oustrup, CEO of Qi Global in Singapore. She delivered the seventh challenge on good communications.
The summit also presented actual social enterprises from China, Philippines and Thailand. Huang Ke of China presented her social enterprise in transforming building roofs in Shanghai to green gardens. Orapin Sinamonvech of Thailand showcased Kokoboard Company as a producer of furniture and construction boards from rice husks, peanut shells, coco fiber and other indigenous materials. Roberto Crisostomo of the Philippines presented how his social enterprise on Cocoa farming could benefit farmers. All of the cases presented were winners of competitions on social entrepreneurship that the British Council organized.