Mamakan is a Danish botanical artist. Her large-scale installations are known for their experiential and sensorial qualities, where she immerses the visitor into living the story using visuals, touch, sounds, scent and sometimes even food & drinks. By exploring different aspects of botanicals through these interactive and immersive art experiences, connections with nature, our senses, ourselves and cultural history are made.
Mamakan's latest installation 'Daughter of the Soil' was commissioned by OH! Open House at Emerald Hill 2018 and featured the true story of Agnes Joaquim, a Singaporean born in the 19th century and the first woman in the world to crossbreed two orchid species. Recently back from New Zealand, we spoke with Mamakan during her summer break in Europe.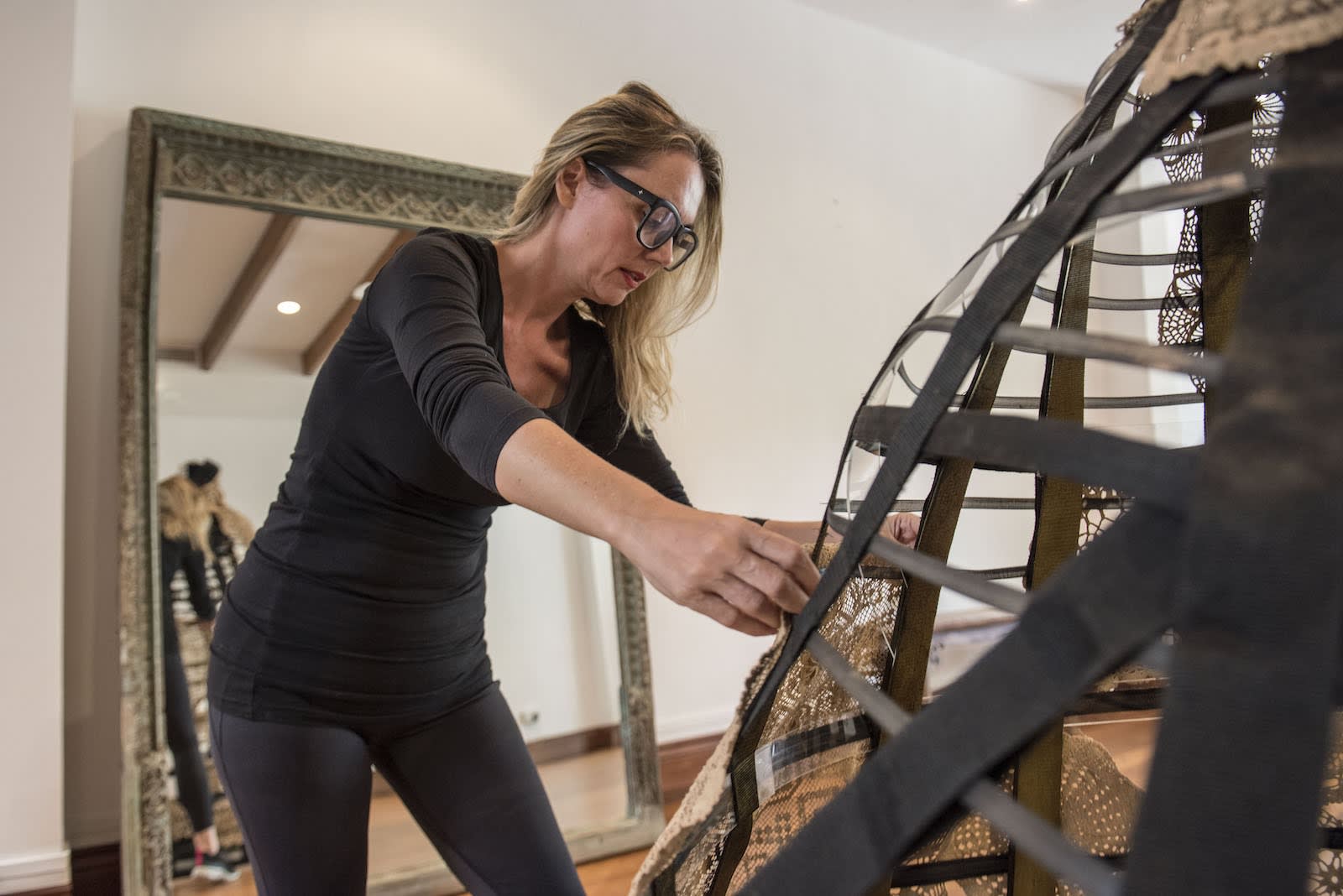 Mamakan working on location for OH! Open House at Emerald Hill 2018
Q: Hello Mamakan! It has been some time since we have worked together, influencing through trend content. Over the years you have generously brought me to the Riviera a few times to work with your brilliant insight co-round tables and to Singapore to speak at your global insight conferences. Today you are influencing through your large-scale botanical art exhibits, presentations and talks. Can you tell us what led you to influencing through botanical art?
A: After the birth of my son Samuel in 2015, I developed a life threatening infection which tooks months of painful recovery. During this struggle, lying sick in bed at a hospital in Singapore, I longed for my roots.
Long forgotten memories from my childhood in Denmark surfaced... My mother was making beautiful ceramic sculptures for an upcoming exhibition of hers. Her friend's art studio in our basement, where people came to have their portraits painted. Our large garden was full of fruit trees and hazelnut bushes. Digging up potatoes in my aunt's backyard, a sun kissed strawberry from my granny's garden.
Later, I remember my own photographic dark chamber where I spent most of my teenage years, if I was not going on a wildlife expedition in Sweden. It all came back… I remember saying to my Dutch/Indonesian husband: Let's move to Denmark!
That was not the solution to my longing, though. You don't get your childhood back by just moving to another country. Little by little, I came to the realization that I had cut my roots to art and nature. I needed to go back, to move forward, so to say. Nature and Art. Art and Nature.
Botanical art became the natural pathway to grow stronger roots to my own heritage.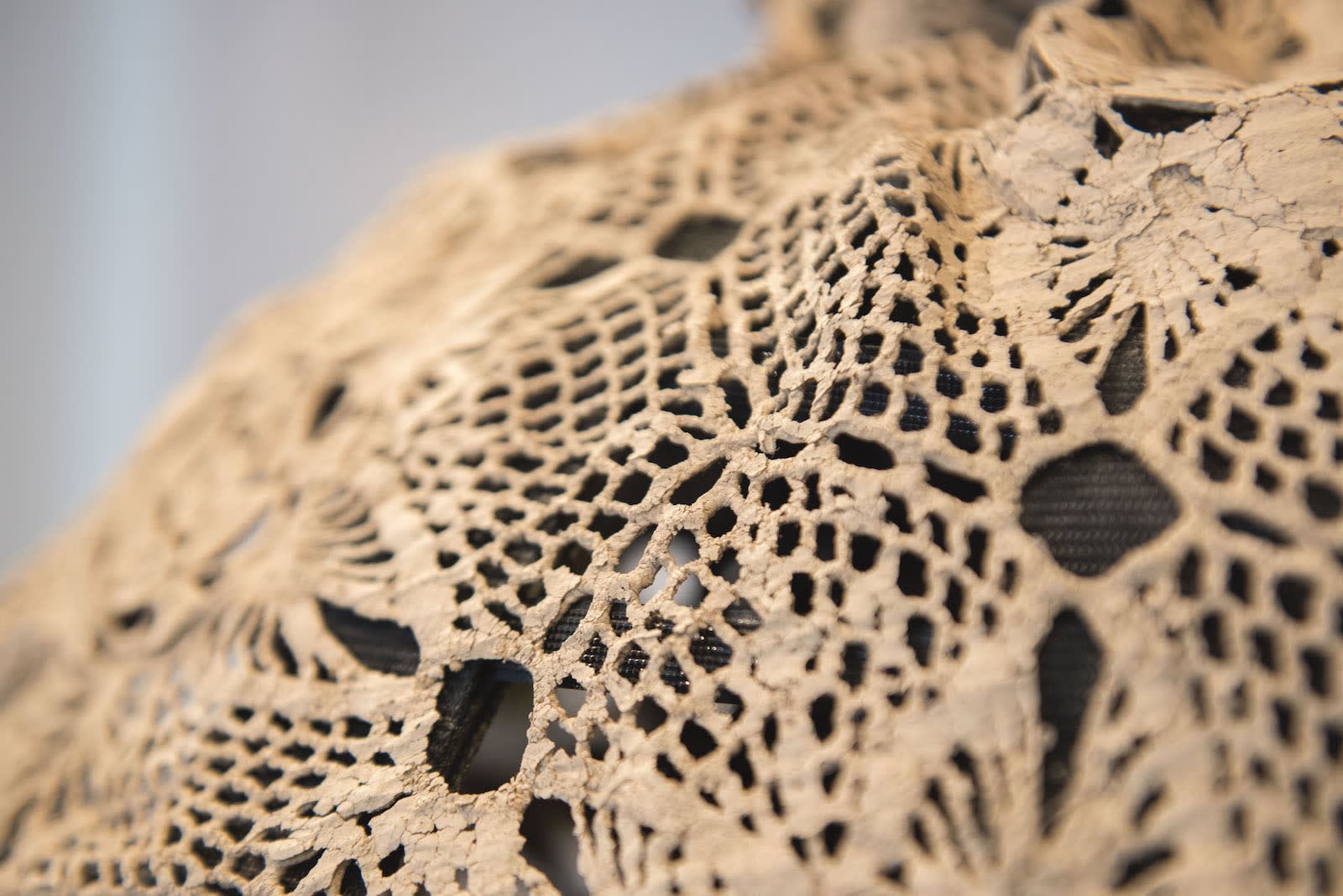 'Daughter of the Soil' installation view
Q: Knowing you personally, you care a great deal about the world and have always been a contributor in driving solutions and innovations forward. Why is your art particularly relevant today?
Traditional botanical art, often in the shape of watercolour drawings, was used to capture the scientific and economic value of plants, booming during the time of colonialism.
These scientific botanical drawings became partly obsolete with the emergence of photography. For many years, botanical art was seen as "pretty flower paintings" and definitely not worthy of serious museum exhibitions.
That's all changing now. A new role for experienced and sensorial botanical art is emerging, and this role makes the art form more relevant than ever before in history.
Most of humanity, especially us living in large cities, are becoming increasingly disconnected to local heritage, nature and our senses. Technology, especially AI, is extrapolating this trend. However, every technological and scientific advancement needs a counterbalance.
Botanical art is a powerful reminder of our local heritage and connection to nature through plants. Contemporary botanical art installations that are highly interactive, designed to create intense experiences for the audience, have the potency of healing emotions and regrow our roots.
'Daughter of the Soil' installation view
Q: You work in a few mediums. Can you discuss your various exhibitions, what you were trying to convey and how each led you to what you are working with today?
After my illness, I went back to art school for a while to retrain technical skills. I also needed to heal my body, weak after months of antibiotics, by eating organic and locally grown food. It was easy to find veggies and fruits from all over the world, but a nightmare to find anything homegrown.
Nothing grows in Singapore, people said, it's just too small here.
My studio was in the center of the city and at first, mostly from curiosity, I began walking around the neighborhood looking for edible plants. To my surprise, there were lots of them! I discovered hundreds of edible plants growing everywhere.
For example, in one of the small parks up my street, there would be 20 to 30 different edible species including fruits like jackfruit, oil palm, herbs, edible flowers and sour bright red cherries. Local people thought that these cherries were poisonous and let them rot on the ground.
I picked some up and made a wonderful tasty jam out of them. That jam became the catalyst to 'GastroGeography', my first botanical art exhibition asking: "How can you grow roots, if you never eat from the soil?"
GastroGeography was seen and tasted by hundreds of visitors during the Singapore Biennale 2016, including Angelita Teo, the director of the National Museum of Singapore. She loved the work so much that she commissioned a show at the museum the following year.
That show became 'Treasure Island'. Here, I used fine art photography, sculpture, interactive smell sensations and even cooked up some food and drinks made of forgotten native Singaporean plants for special events. People loved it. The name "Treasure Island" referenced Nathaniel Wallich, a Danish botanist and his visit to Singapore 1822.
Excited about his and other botanical stories during colonial times, I decided to do more research into the topic. One afternoon, I had tea with Linda Locke, a great grandniece of Agnes Joaquim.
Linda impressed me with the story of Agnes, her great grandaunt, a tale of creativity and courage, as well as misogyny and nationalism. The story became the inspiration for my latest work, 'Daughter of the Soil', for OH! 2018.
The work has three parts: an installation with a sculpture piece, a poem soundscape and a perfume made of plants, that Agnes grew in her garden in the 1880s. In this way, local heritage comes alive, emotive and relevant, proposing a mirror-like reflection of our modern societies.
'Daughter of the Soil' installation view
Q: Where is your art going to and what is your next exhibit?
A: After 3 years of creating large-scale botanical art exhibitions, I'm finally having a summer break in Europe. My kids are happy about having some "mama" time. There are some very interesting projects coming up later this year, and for 2019. Stay tuned!
Q: Aarhus, Denmark, where you are from, has such a wonderful lifestyle with a message to the world of how to live. What prompted you to leave?
Endless curiosity and a deep quest for adventure. I'm one of those irritating people who alway asks "Why?".
I needed to see the world to understand it. Perhaps we all need to travel to appreciate where we come from.
Q: Do you have any advice to those in the change-making arena now that you have had a variety of experiences, impacts, results?
A: Yes. Live your Purpose.
Ask yourself, are you living your purpose or at least living gracefully close to something that feels meaningful?
If not, don't be afraid to quit and look for something else. Something better. Somewhere. Somehow. If you are sincere and open, doors will open and guide you along the right path. And you can then write a new story for yourself, perhaps even with a new name.
My parents called me 'Mette Kristine'. Thus, I was not born Mamakan, I became Mamakan over the years. Mamakan means 'Mother Nature can'. My artistic practice is simply to channel that wisdom to the world.
When I was ready to live my purpose, as a mother, wife, friend, artist, Mamakan flowed into my life. It was not a career progression or just another job, it was all of me. It's all of me, yes, but not about me.
I'm just an open and empty channel of the universe, part of a much greater and grander question: How do you create human progress in harmony with nature?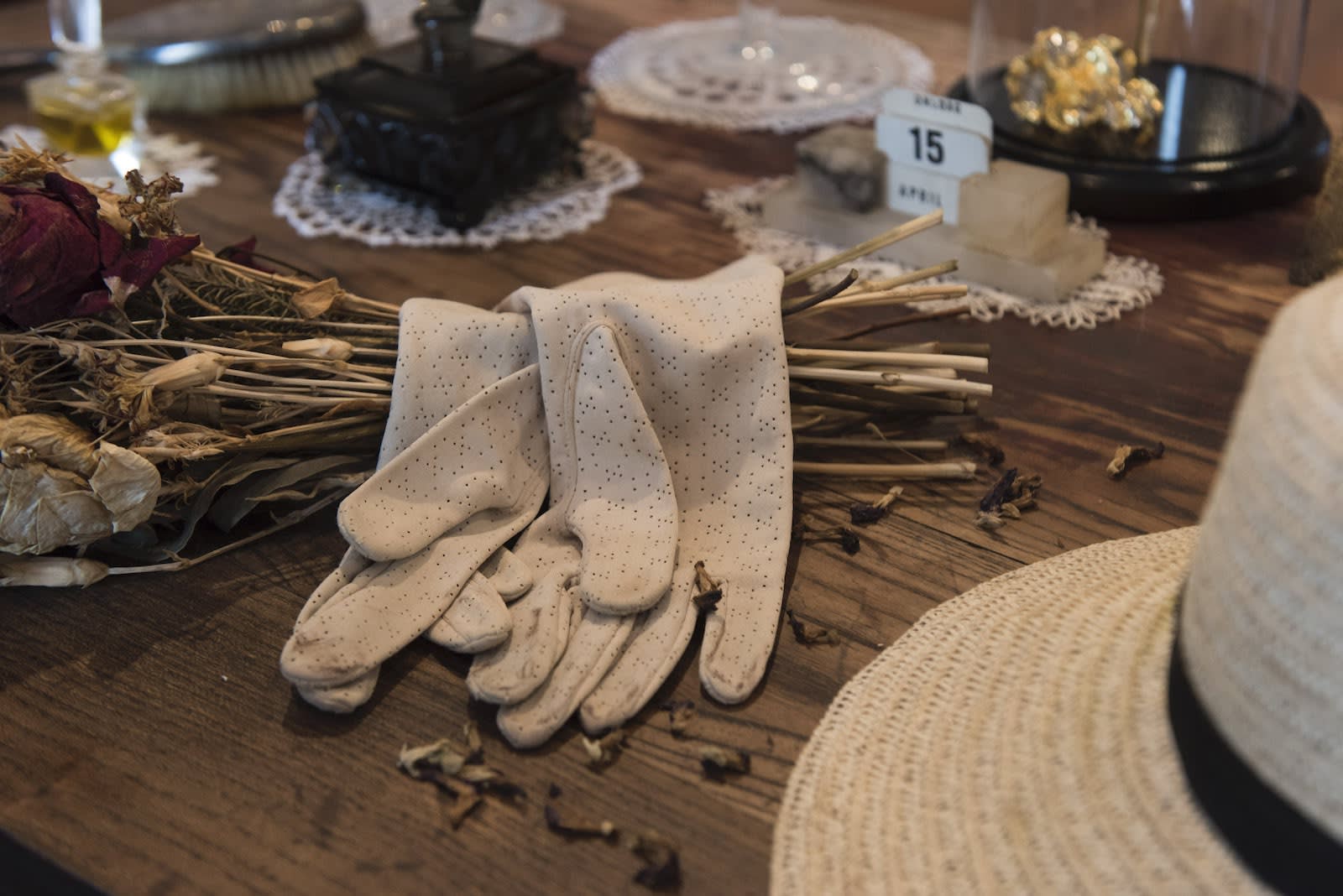 'Daughter of the Soil' installation view
Q: What was a surprise learning from this incredible journey you have taken?
A: I was surprised to understand that my childhood and early teenage years contained the keys to my success. I was already creating art inspired by nature, but I did not take it seriously. It took me years of trial and error in other fields to ultimately return to art, this time for good.
In our hectic daily life, we often look to others and the future when, in fact, many important answers to our success as human beings is found inside ourselves, and in our memories of the past.