Phantasy is a new commission by the botanical artist Mamakan. The botanical sculpture in the forestscape series was commissioned by a collaboration between Giapo Ice Cream and Comvita honey.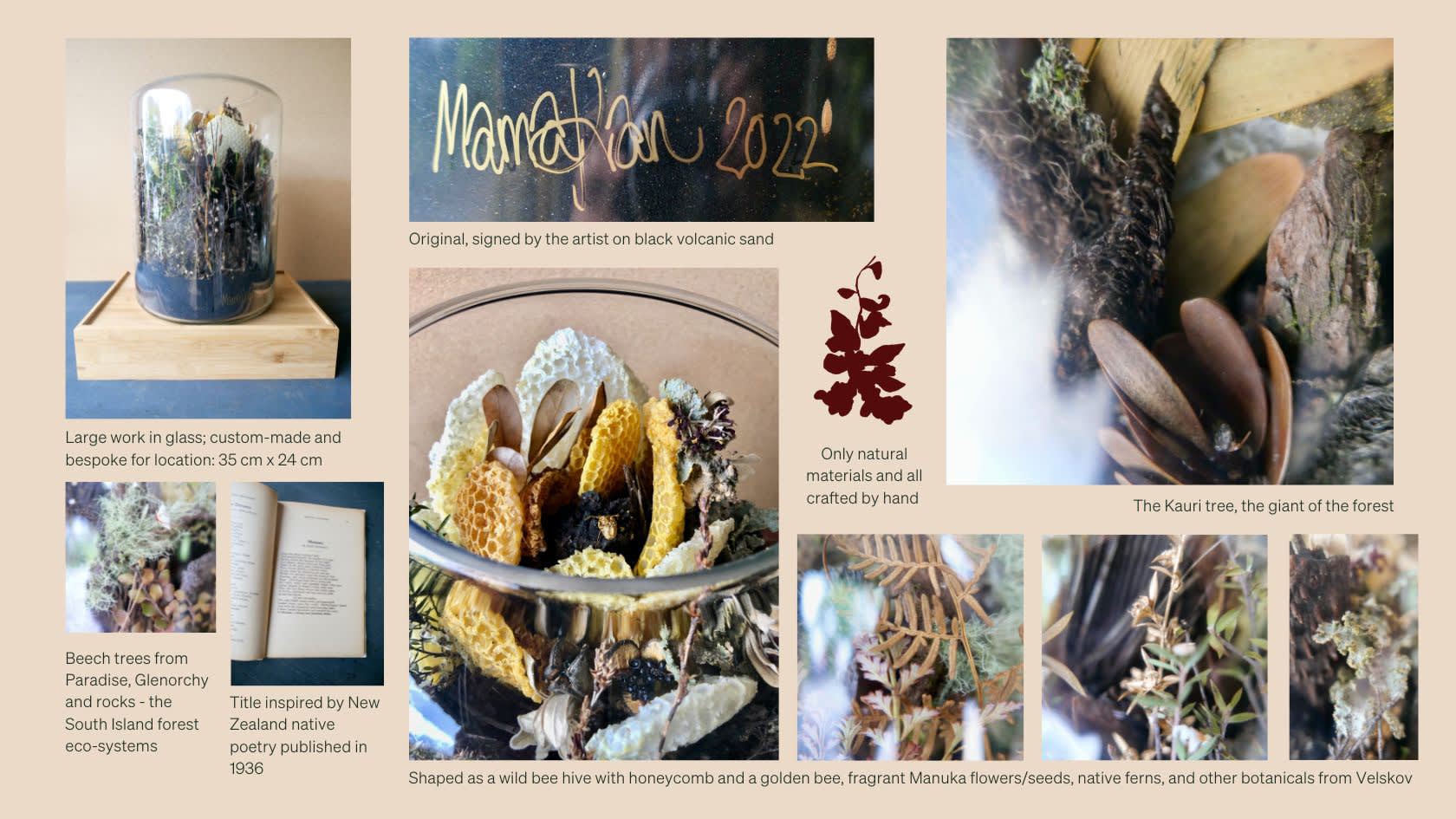 Moodboard for 'Phantasy', 2022
The all-natural sculpture was made with volcanic sand, native botanicals, rocks, and a natural beehive, all contained in glass.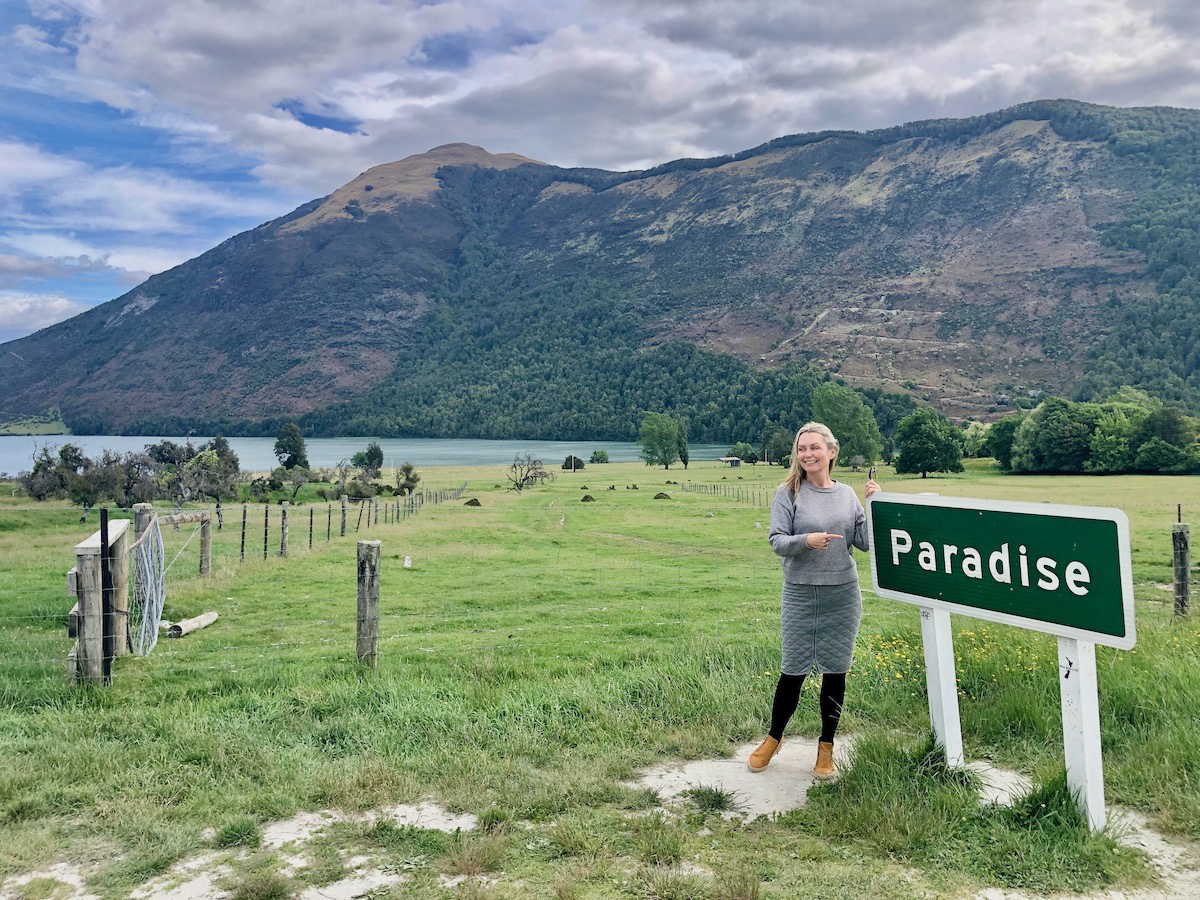 Mamakan foraging for botanicals at Paradise, Gleorchy (close to Queenstown, New Zealand).
The materials are foraged by the artist, from Paradise, Glenorchy, on the South Island, or from Velskov, Waitakere, on the North Island of New Zealand. The bee wax is all natural from hives in Parau, Waitakere.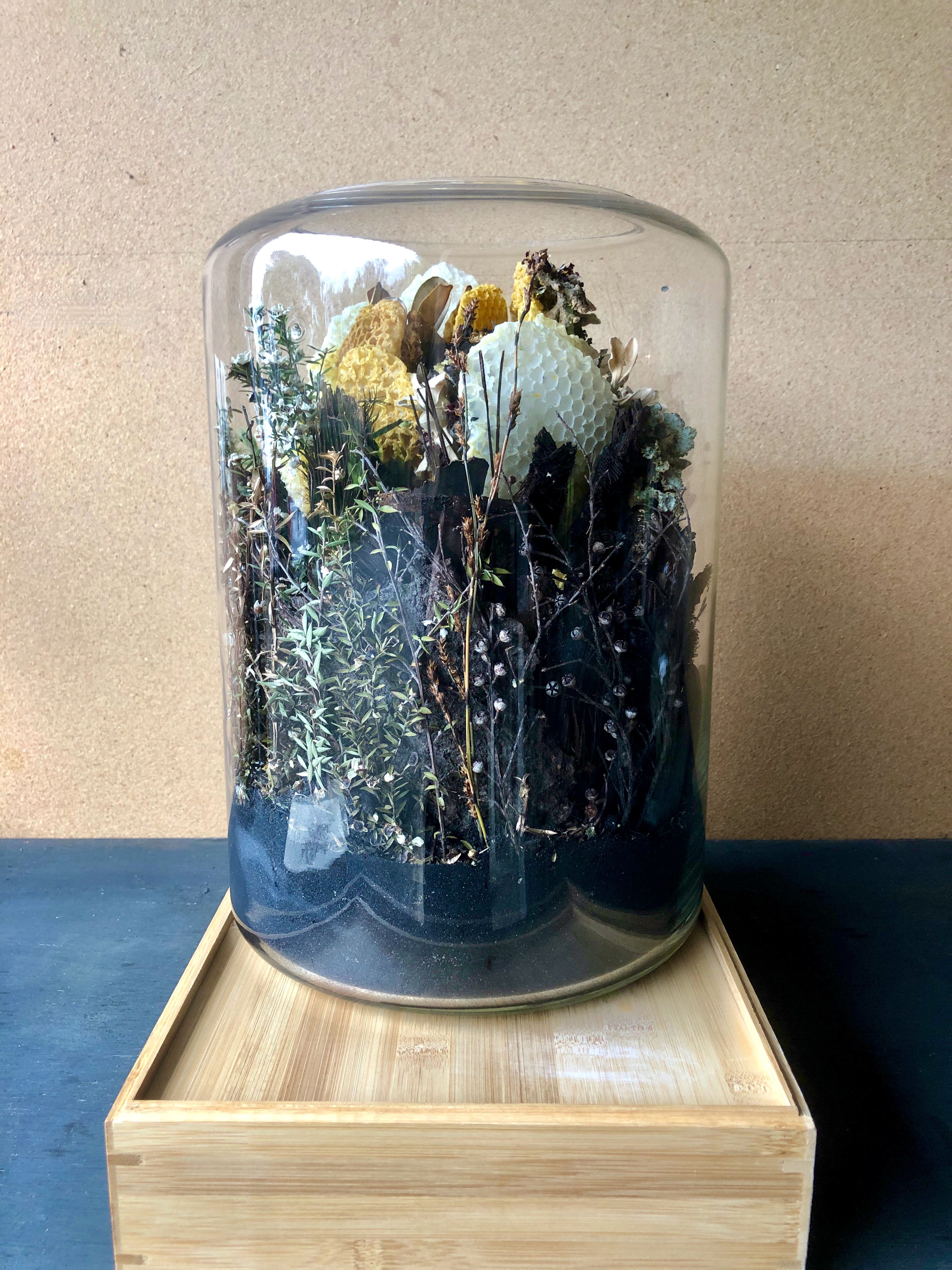 Working session at the studio.
In 1936, an Auckland-based publisher wrote these words:
Perhaps of all the islands of the South Seas, New Zealand is the richest in scenic charm and native flora.
Its snow-capped mountains, sparkling lakes, luxuriant, verdant bush, and fertile pasture lands have been the inspiration of many a poet and artist. It is a paradise for those who love and seek the beautiful, offering endless resources for naturalists and botanists.
Mamakan foraging at Velskov, Waitakere Ranges - close to Auckland, New Zealand.
Visitors to New Zealand carry away memories not only of the vivid and lovely flowers of the coast and virgin bush, but also of the rolling, Manuka-covered hills, brown-green and in Spring and Summer bright with blossom.
This is the most prolific of all New Zealand flowering plants, and various species are to be found. Its flowers are many-coloured, ranging from pure white to crimson, and each is an example of the rarest and most exquisite in nature.
The fragrance of the Manuka cannot be readily described. It is strongly aromatic, subtle, and penetrating, and a fragrance that seems in keeping with the romance and allure of these Pacific islands.
This Forestcape is inspired by the poem 'Phantasy' by Mary Davidson, published in the anthology of New Zealand poems 'Manuka Blossoms', 1936.

Phantasy
By MARY DAVIDSON

________

Down the silver evening I fled,
And paused beneath the shadow of a star,
Secure within the fastness of the night;
And silence, silence found me from afar.

There in the quiet dark, primeval spells
Were woven silently ; a fiercely sweet
Aroma woke the dreaming air, and far
Within the distance came the sound of feet
Dancing, and voices chanting an old barbaric
Song.

And flung from hill to rising hill,
All virgin white and spangled bright with dew,
Lying tangled in Night's swift, dusk hair
That she had flung across the world anew,
A mystic, perfumed veil was cast out wide
Across the Earth.

At last inevitably,
The cold, bright dawn arose, and eager-eyed
Looked down upon the world.

Enchantment faded;
And with the tremulous early-morning light,
I there beheld the gleam and smelled the scent
Of Manuka, a-bloom and gleaming white.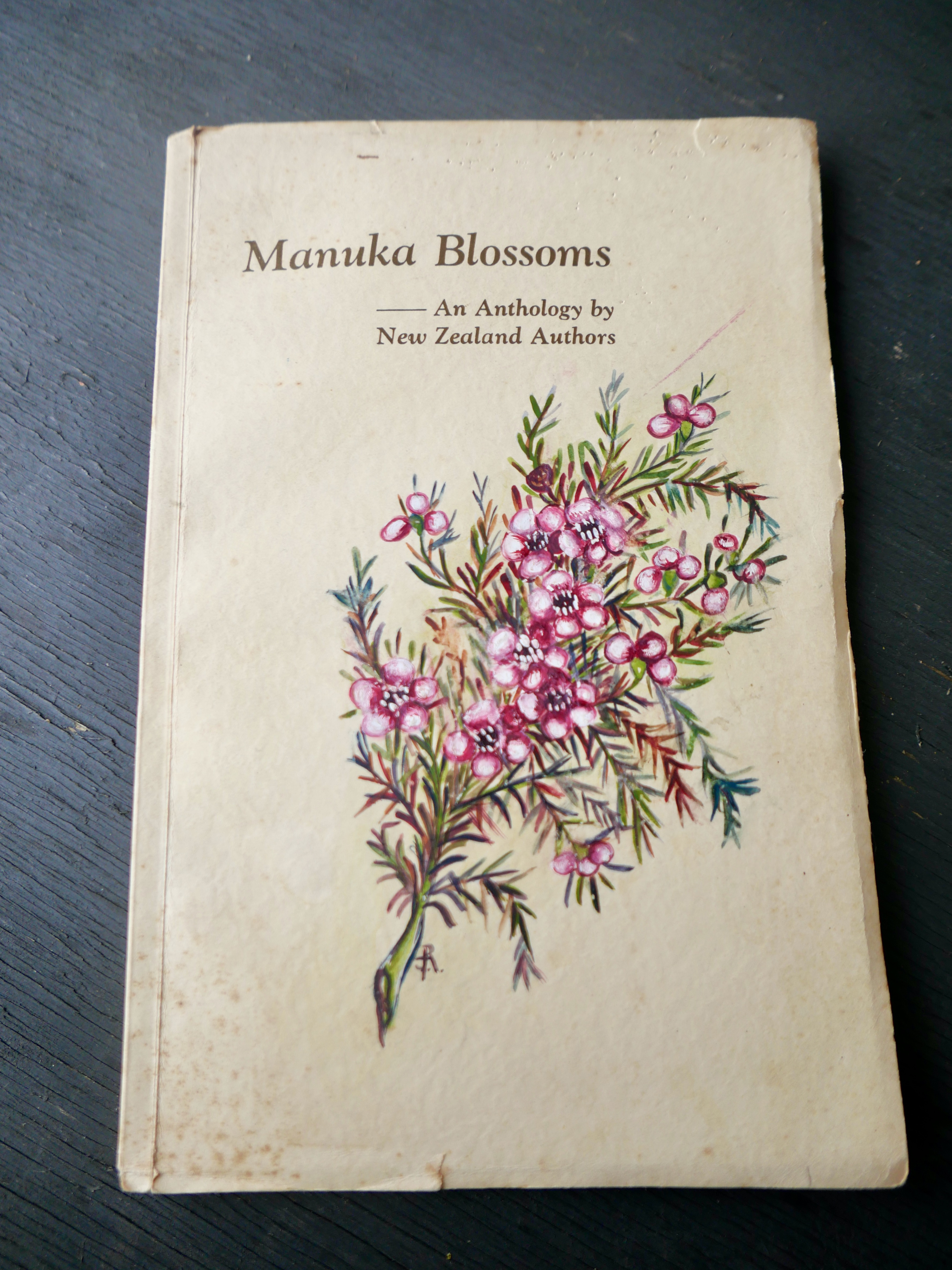 Manuka Blossoms, 1936
For any questions, please contact the artist here.